With the FIFA World Cup well underway, we look at some of the world's greatest football shirts and reveal how they gained their iconic status.
Since its start, 79 nations have participated in the World Cup, all sporting various kit designs – some more memorable than others. We take a dive into what can make a kit a design classic.
SINGULAR IDENTITY
Dutch have arguably created one of the most iconic kit designs of all time, not by trying to be different but by being consistent. The white and orange kit has hardly deviated for this country that has never won the World Cup (it has made it to three finals, though). Orange is a colour associated with the Dutch royal family. Over the centuries, it has symbolised an entire region and is used not just in football but for teams and fans across all sporting and national events.
The Brazilian kit's yellow, blue, and green design combination has, on the whole remained consistent for years, apart from a little wobble in the mid-'90s! – the simple colour combination has remained. The shirt itself is now as iconic as some of the superstars who have worn them – you put on a legacy when you wear this top.

FOOTBALLING GODS
Sometimes it's the players that can make a shirt iconic. Over the years, football has given us some true legends of the game, admired, and revered in equal measure. The 1986 World Cup was dominated by Argentina thanks to the genuinely sublime skills of their talisman – Diego Maradona. Watched by millions worldwide, he became the panicle of footballing prowess. His image of wearing the stripped white and light blue top was used countless times on posters, magazines, and newspapers long after the tournament had ended. Sporting the number 10, his kit is instantly recognisable to football fans worldwide – while not necessarily the most radical of designs, Maradona's impact has made sure that it remains an all-time classic.

ONCE-IN-A-LIFETIME MOMENTS
Perhaps a defining moment or memory makes a shirt a classic… England '66 and only world cup win to date. The shirt becomes synonymous with success as it is the only time in English history of true football greatness.

TRIBALISM
To individuals and groups, many reasons give a shirt its iconic status a treasured part of its sporting culture. There is, of course, the passion and pride of wearing your country's colours – the sentimental value, part of the 'pack' mentality that unites a nation means It is more than simply down to fashion, and what about the influence that kit represents from a moment of history. An example would be for the Welsh this year, the first time since 1958. The 'Red Wall' movement has been momentous, and the passion behind the cry 'Yma or hyd' – we're still here. To own a piece of passionate sporting history, one that has sparked a cry for a name change from Wales to Cymru, this shirt is all about pride.
ART AND CULTURE
Many believe the West German kit of the 1990s is the panicle of iconic kit design. A new, bold approach that was reflected in countries' optimism after reunification. At the time, it also signalled the start of the sport becoming 'more serious', recognising that marginal gains made through coaching techniques, lifestyle choices and mindsets could win matches.
The design featured a three-coloured bold stripe on a plain white shirt. Influenced by the graphics of the Bauhaus movement, it became a design aesthetic that defined a decade and is still felt today in our design culture. West Germany won the title this year, beating Argentina in the final 1-0.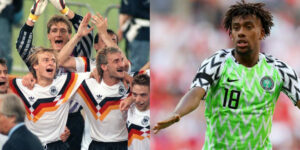 Many teams have dipped into their culture to inspire shirt design. For Nigeria, in 2018, their reimagination of traditional textiles created a unique iconic look that looked just as good off the pitch as on it. The zig-zag design, known as the 'Naija' top, was an instant winner with fans, with over 3 million being sold on its release.
Historical art is also used significantly by teams to buy into the pride and passion of a nation. Mexico's kit from 1998 heavily featured Aztec motifs. This year's World Cup sees Tunisia using graphic elements based around the Armor of Hannibal – found in Tunisia in 1909. Both evoke national pride for players and supporters to be part of a legacy, strengthening a nation's historical identity.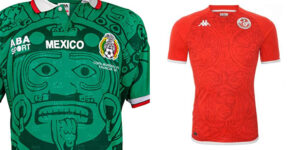 POLITICS
Of course, with this World Cup, we see a new and exciting take on shirt design… political.
FIFA can advocate that football remains apolitical and that "the essential compulsory equipment (shirts, shorts etc.) must not have any political, religious or personal slogans, statements or images hidden away. But teams still try. This year the Danish 3rd kit is an all-black top that looks amazing, with every detail hidden in a monotone. The black was chosen as it represents mourning, a decision based on the fact they didn't want to forget that this tournament has been built at the cost of human lives. The political statement is about Qatar's human rights record and its treatment of the migrant workers that have made the country's World Cup Stadiums.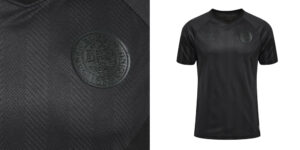 WHERE THERE ARE WINNERS THERE ARE LOSERS
Designs can capture a moment – transport you back to winning times when a nation stood together shoulder-to-shoulder in sharing the pride and excitement of lifting the World Cup. A kit can help define a country and elevate its players to national heroes, but the reverse is also true. World Cup history is dotted with poorly designed or ill-considered shirts.
For example, the Nigerian kit from 1994. The delicate repeat pattern is clearly influenced by cultural symbolism; from a distance, though, it looked like someone had glued dollar bills to their shirts – Not a great look for a country struggling with deep-rooted corruption issues!
Or the Brazil shirt in the same year was also shot down due to the new computer-based printing processes that allowed patterns to be easily added into kits. This was the first and last one where the top was emblazoned with overlapping crests… after this – they returned to the simple, clean yellow top with colour edging represented on the shirt.
This year, the Swiss national team have a shirt that has also received a mixed reaction. The plain white top with a random red panel on the chest has been criticised for looking like the mobile phone calendar!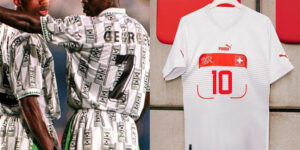 SO THEN – WHAT REALLY DOES MAKE A SHIRT ICONIC?
The reality is – it can be any of the above reasons; that is the beauty of football. From the mediocrity of a team in a cool-looking shirt to the brilliance of a player who elevates an otherwise normal-looking shirt. A cup victory or simply a great-looking top that is just too cool to not like! Shirts become iconic when fans can relate to them – when it taps down into the psyche of a football-loving brain. Who knows where shirts will move to in the future? What we know is the desire for change in the world, equality, environmental, and identity issues will all steer future kit design? How regulated they may become will be interesting, but we know there will always be superstars who wear them and who will lead these concepts from the front.
SO, YOU THINK YOU KNOW FOOTBALL KITS?
We've re-created 10 all-time greatest and most iconic World Cup football kits. Do you know which country they belong to?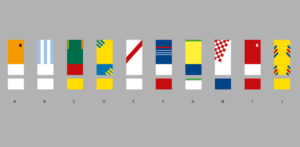 All images have been sourced online and are in the public domain. Copyright and ownership of those images is acknowledged.