We had a good look around London Toy Fair and spotted some interesting trends and themes appearing in the toy industry.

It was great to be back at Toy Fair this week, catching up with some of our clients and talking about all things toy with industry experts. It's been a long wait for this event to get back to pre-pandemic excitement levels with some noticeable changes in trends.
There was an overall feeling that toys were going 'back to basics'.
It was clear that there were fewer electronic toys and a marked increase in board games. Overall, the show that felt more wholesome, honest and responsible.
There were a lot of companies with more straightforward, well-crafted and designed toys that reimagined traditional games like bowling, ball games and preschool toys, all brought up to date with modern twist.
With companies' ongoing conscious effort to avoid plastic, many were designed with longevity in mind – quality items built to last. From friendly alternatives like wood and card and even some unexpected materials such as cork!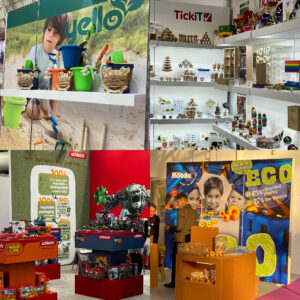 The more straightforward product that encouraged an imaginative style of play was abundant, but electronic and interactive toys were lacking. It may result from the global shortage of electronic components, but it could also be part of the trend where parents want fewer 'screen time' activities for their kids. STEM products were the headline trend of 2019 and it's growth was expected to rise year-on-year, but suprisingly there were only a few new products in this category that we noticed, this may be due to market saturation?
Many companies were keen to be green, exhibiting various products with a smaller carbon footprint but without compromising the fun. The companies that couldn't move away from plastic ultimately were making their environmental manifesto about their supply chain and working practices clear for all to see on their stands.
There were a lot of games being displayed at the fair, a trend that has grown out of lockdown and has continued to gain momentum where families have learnt to reconnect, and Board Game Cafes have popped up for the fun-loving, social Gen Z types that are keen to connect in different ways.
'Quick-to-learn, easy-to-play' games have become very fashionable. There was a lot of these type of games on offer at the show. Games that disregard the traditional notion of a board game create something altogether different, often anarchic but very addictive, combining wit and humour to significant effect.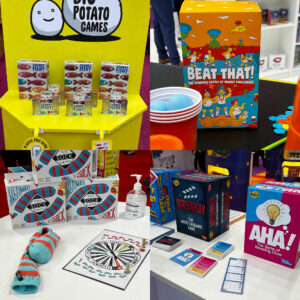 Strategy role-play games were also in abundance, with the usual immersive fantasy storytelling themes supported quite literally by an army of figures and collector cards designed to tap into the latest trend of the 'kidult'. We have blogged about this trend before, and you can read our insight here: The trend of the Kidult – is there more to it than just child's play?
All in all, it was a great event, well attended with some clear emerging trends and themes.
A special mention must go out to Paper Engine for creating the highlight of the show for us. A beautiful cardboard-engineered model of Wallace and Gromit's rocket from the 'Grand Day Out' animation. We couldn't help but admire the skill involved in creating this piece with its opening sides and lots of animated detail. Well played, guys!